Areas of application of the modular SpeedFloor systems
Modular SpeedFloor floors have an enormously wide range of applications. Depending on the system, they are intended for laying e.g. on such substrates as concrete, screed, screeds, boards, OSB boards, asphalt, ceramic tiles and porcelain stoneware, concrete cubes, Wema sheet and gratings, stabilized aggregate substructure as well as existing ones under modernization, adaptation or renovation – regardless of the type and degree of their damage or wear.
To make it easier to find out which floor system can be used in a given area, we have created application tables for selected tiles of the SpeedFloor systems. There can be many, many more areas of application, and the only limitation is our imagination!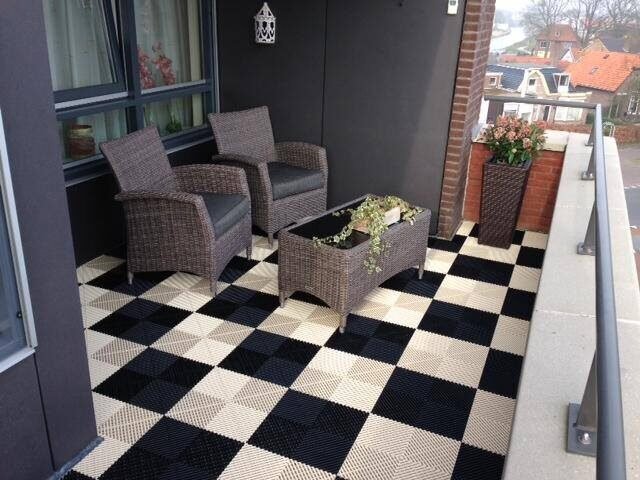 SpeedFloor systems application table
Garages, workshops, craft workshops
Whether it's the garage where you keep your car, motorcycle or boat, or where you store your tools, equipment, tires and other essentials, it's essential to make a well-informed decision about choosing the right floor.
We offer PVC and PP system solutions that meet the requirements for all these rooms. When choosing a floor, much attention is paid to resistance to mechanical loads (compression and abrasion), resistance to chemicals, including: oils, fuels, lubricants or other petroleum substances, brake and cooling fluids or other chemicals.
Depending on the type of loads and the nature of these rooms, the appropriate solution should be selected for the flooring in them, because each floor has specific requirements for durability, functionality and easy cleaning.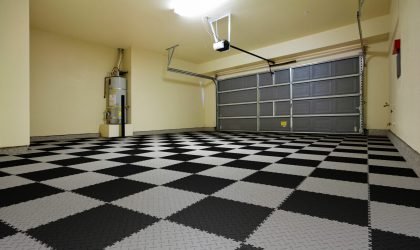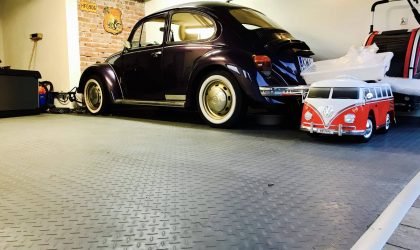 Car repair shops, detailing studies
Undoubtedly, the most important features of floors in these areas are primarily: resistance to mechanical loads (compression and abrasion) and resistance to consumables (oils, fuels, lubricants, brake and cooling fluids). They can certainly have a negative impact on the appearance and performance of the floor. Therefore, it is important to choose the right solution for a given room. Thanks to the homogeneous structure, high-quality PVC and PP modular tiles are undoubtedly perfect for such conditions.
That is why choosing a solid and durable floor is such an important decision!
Garages of the fire brigade, other services and the army
The presence of Speedfloor floors, both abroad and in Poland, is not accidental. Individual versions of the floor are undoubtedly perfect for garages and technical rooms, offices and social rooms.
Speedfloor Standard or Invisible with a strength of up to 0.5 t / cm2 are, above all, perfect solutions for the wheels of vehicles such as: GBA, GCBA, GCBM, GPr, SRt, SRd, Sh, etc. While the Light version (0.2 t / cm2) will be perfect not only in barracks, but also in the positions of operational vehicles.
Due to the thick, homogeneous layer of high-quality PVC, Speedfloor PVC tiles are perfect for really difficult conditions. In most cases, it is not necessary to glue the floor to the sub-floor, which allows for any arrangement, and if necessary, also changes in its arrangement without the need to spend further money. The possibility of using markings and descriptions on the floor allows for even better organization, and the execution of a logo or other graphics on the floor can add character and uniqueness.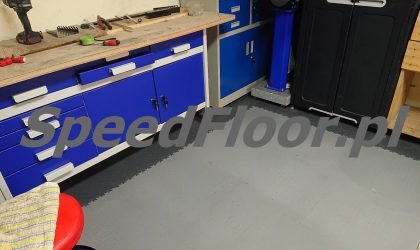 Basements and boiler rooms
SpeedFloor PVC and PP flooring solutions can be used in basements, gas and oil boiler rooms. Their use will give the rooms a new, aesthetic look. As a result, it masks its previous imperfections and flaws.
It is noteworthy that there is no need to stick the floor to the base. As a result, this makes them independent, and hence high versatility. The strength of PVC and PP tiles allows, above all, to place storage racks, containers, organizers, pallets, etc. on them.
Regardless of whether it is a garage or multi-bay car park, the choice of flooring must be a well-thought-out, conscious decision. It is the floor that is often one of the most expensive elements. The most important parameters that should be taken into account are: resistance to mechanical stress – compression and abrasion, resistance to consumables – oils, fuels, lubricants, brake and cooling fluids. They can negatively affect the appearance and performance of the floor.
Our offer includes system solutions that meet these requirements. It is a SpeedFloor PVC system with a compressive strength of 500 kg / cm2 and resistance to most commonly available chemicals and petroleum substances. Therefore, this type of flooring seems to be the most justified choice. Its low dependence on the substrate, the possibility of covering scratches and cracks, flexible structure and ease of repairing the surface make the SpeedFloor PVC solution an advantage over resin systems.
When creating or modernizing the floor, great emphasis should be placed on choosing the right system. Depending on the type and nature of loads, purpose and function of the rooms, SpeeedFloor PP or SpeedFloor PVC versions can be successfully used for flooring.
The most important parameters when choosing a system are usually: resistance to mechanical loads – compression and abrasion, resistance to consumables – oils, fuels, lubricants, brake and cooling fluids, which may adversely affect the appearance and performance of the floor.
SpeedFloor flooring solutions are perfect for these spaces. SpeedFloor PP 25 and PP 50 versions with a pressure resistance of 25 and 50 tons / m2, respectively, can be successfully used for light helicopters and airplanes. Where higher loads are expected, it is worth choosing SpeedFloor PVC solutions with a strength of up to 500 tons / m2.
Both during the construction of new facilities of this type, as well as during modernization, renovation or adaptation of the existing ones, a lot of attention is paid to the parameters of the floors. The most important of them are usually: resistance to mechanical stress – compression and abrasion, but also resistance to consumables – oils, fuels, greases or other petroleum substances, brake and cooling fluids, which may adversely affect the appearance and performance of the floor.
Depending on the type of loads and the nature of these rooms, the appropriate solution should be selected for the flooring. SpeeeFloor PVC Standard, Eco and XL solutions, complemented by ESD or Print variants, will prove effective in heavy load zones. Where there are no high mechanical loads, it is enough to use the Light version. Each floor always has specific requirements in terms of durability, functionality and easy cleaning.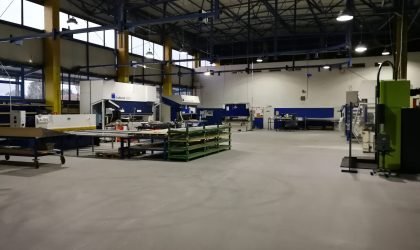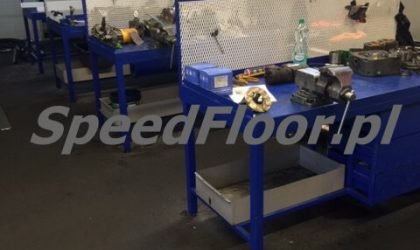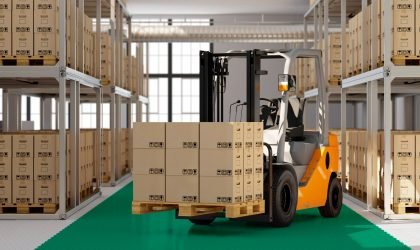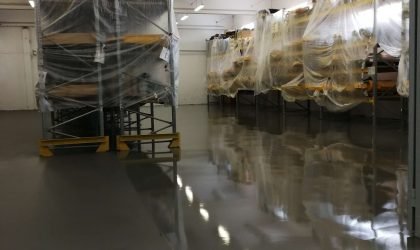 Warehouses and storerooms
The high strength parameters of SpeedFloor floors make them ideal for warehouses, warehouses, storage rooms and hangars. They create a solid, durable, safe and quiet substrate, also perfect for large-area warehouses and high storage. For these types of places, we recommend SpeedFloor PVC Standard tiles, which help to quickly and economically create an attractive, clean and, in particular, safe work environment.
Describing SpeedFloor Standard in one sentence, you can say: "It's the perfect warehouse floor – practical, durable and safe." Where we deal with small and medium loads, other elements of PVC and PP systems in our offer will also prove successful, including PVC XL and ECO.
Technical and utility rooms
When choosing a floor for technical and utility rooms, we should pay attention to its functionality, utility properties as well as safety and comfort during its use. The floor in technical rooms can make it a place where work will be a pleasant and safe activity.
For rooms such as workshops, studios or boiler rooms, choose tiles that can withstand heavy loads, are resistant to water on its surface and chemicals. In the case of a floor intended for laundries, you should consider the properties in relation to its resistance to washing agents, the frequent presence of water on the surface and the damping of vibrations during spinning. A system of drainage channels at the base of each tile ensures ventilation of the floor, which prevents the formation of mold.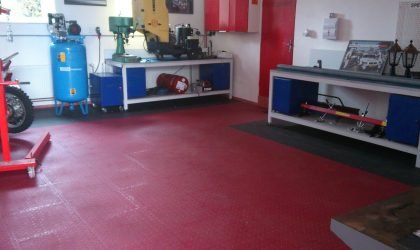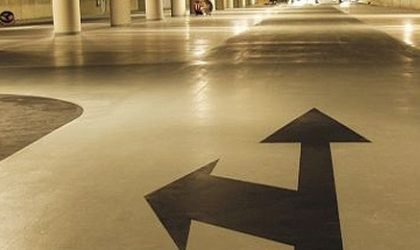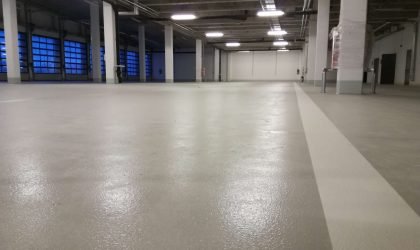 Due to the fact that all SpeedFloor PVC solutions are perfect in these areas, it is mainly up to the Investor's decision which and where will be used. An important advantage of the SpeedFloor system elements is the ease of maintenance. An important aspect is also the possibility of quick assembly/disassembly
The modular nature of SpeedFloor solutions means that the installation or replacement of the surface can be carried out even during the use of communication spaces. The installation of SpeedFloor floors does not require the use of special tools, does not cause dust, hazardous noise and no harmful vapors.
Laboratories and research laboratories
Depending on the type of loads and the nature of these rooms, the appropriate solution should be selected for the flooring. Each solution has characteristic parameters in terms of durability, functionality and easy cleaning for a long time. That is why it is so important to choose the right floor system for research rooms and laboratories. We offer many system solutions, including: anti-electrostatic, oil-resistant, drainage or in the 3D version.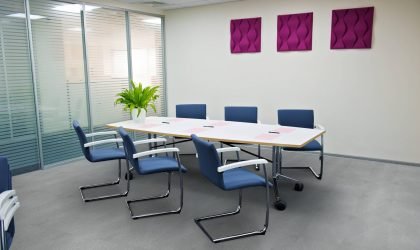 Offices and conference rooms
The floor is an extremely important element of office rooms. Choosing the perfect office flooring can be difficult as there are many factors to consider. This decision is also important because the floor essentially influences the atmosphere of the workplace and builds the image of each company in the eyes of its guests. First of all, it is worth remembering that the floor should positively affect the aesthetics of your office, but also should meet other requirements, such as comfort of use and functionality.
The Speedfloor Design solution is intended for all office spaces: offices, open spaces, conference rooms, lobbies, corridors and staircases. Installing the floor in this solution is extremely easy and quick, and the unique features of the tiles allow you to create an atmospheric and peaceful workplace. Summing up, the renovation of interiors in which completely strangers will come to work together can be helpful in building a lasting "team spirit".
Shops, boutiques, commercial spaces
The impression that the store will make on the customer, making him more willing to spend money and remember the purchases pleasantly so that he wants to return to them, consists not only of the purchases themselves, but also the appearance of the store interior itself. Therefore, you should create a place where customers will feel at ease and comfortable. If you want to create a nice and popular point of sale that customers will be happy to come back to, or if you are just looking at plans that are only on paper or are preparing to renovate your own store, remember – you should always choose the right floor covering.
This is where the SpeedFloor Design solution comes in handy, allowing you to create a unique store atmosphere and have a positive impact on building its brand. Easy installation of SpeedFloor elements will allow you to renovate the floor in the store in a few hours. So there will be no need to interrupt sales and introduce restrictions for customers.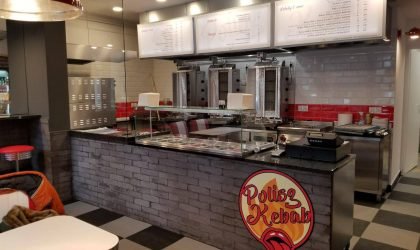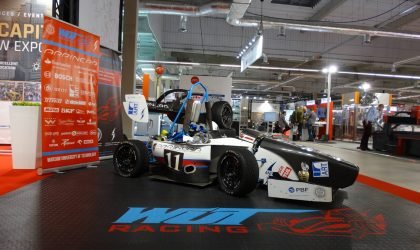 Trade fairs, exhibitions, expositions, temporary floors
SpeedFloor elements have been designed in such a way that it is possible to make a floor quickly and easily without the need for special preparation of the substrate. They not only make it possible to create the space of the stand by selecting the color and texture of the tiles, but most of all they create a durable, elegant and easy-to-clean floor surface, protecting the floor from damage. There is no need to worry that it will need repair and cleaning after the exhibition is over. By organizing meetings with business partners with current and potential customers, each company tries to show in the best light, putting a lot of effort and considerable money into creating an interesting, eye-catching presentation, exhibition or fair stand.
Schools and kindergartens
Floors in public spaces, such as kindergartens, schools or boarding schools, must not only withstand heavy daily use, but also create a pleasant and inspiring environment for pupils, students and teachers. 131/5000 SpeedFloor Design and Invisible floors combine timeless design with high durability of floor tiles. This is how they create a functional and aesthetically distinguishing floor covering, which is perfect for many educational facilities.
A classroom or lecture hall should be characterized by an appropriate temperature and acoustics, so that the atmosphere filling it could favor the concentration of people staying in it.
Restless and noisy places such as corridors require a durable, soundproof and safe floor. The SpeedFloor PVC floor system is a solution that allows you to quickly implement these guidelines.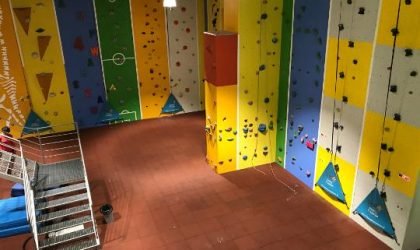 Play rooms, playrooms, children's corners
Places of this type are created today in shopping centers, shops, cinemas, hotels, and even service outlets, restaurants, cafes or holiday resorts. Indoor playgrounds should allow children to play safely and pleasantly, even in unfavorable weather. Children most willingly discover the secrets of the world around them through play and exercise. The environment should therefore be friendly to them and attractive to the eye, and they themselves should feel safe.
Extremely helpful in creating playgrounds, playrooms and activity rooms for children are the systems of instant, aesthetic and durable Speedfloor PVC floors in the Light and SpeedFloor SBR / EPDM versions. Thanks to them, it is possible to build an area of physical activity both inside and outside buildings. These floors are characterized by a pleasant, harmless to health, easy to clean and maintain surface structure. Thanks to a specially designed surface, they reduce the risk of slipping, even in socks. One of the advantages of this solution is good thermal insulation, so the caregivers do not have to worry that their charges will catch a cold while spending most of their time on the floor while playing.
The cleanliness of the floor should not be a worry either, because the SpeedFloor floor can be quickly and easily cleaned and decontaminated (especially in the PVC version) using ordinary detergents and detergents, saving yourself the hassle and time. The safety of play, as well as good acoustic properties of the floor (reduced noise), vibration damping and the nice-to-touch Speedfloor structure are a guarantee of good fun.
Sport, fitness and recreation
In sports centers, fitness centers, exercise halls, gyms, outdoor and indoor playgrounds, but also at their back-up facilities, one of the most important issues is the safety and comfort of users.
Depending on the field of sport we are interested in, the offer of floors available on the market is distinguished by a wide range of solutions. Regardless of the system, however, each of them places great emphasis on the strength of the substrate as well as permanent static and dynamic loads, as well as ease of cleaning and maintenance of the floor. Falls of loads, spilled fluids, especially sweat, are an integral part related to the functioning of this type of facility. Thats why it should be remembered that durable, clean, fresh and safe (also biologically) floors undoubtedly improve the overall impression of the reception of the entire room by their users.
A combination of these advantages is the SpeeFloor PVC Standard and Light flooring system for gyms and sports facilities, made of high quality vinyl, in the form of tiles with the Fortelock system of durable joints. This floor is not only aesthetic and user-friendly, but also easy to maintain. Another popular solution is the Speedfloor SportFlex puzzle mats made of SBR / EPDM granules. Thanks to their flexible structure, they contribute to reducing the risk of injury and protect against excessive strain on the joints, muscle fatigue during exercise, and at the same time they are dampers for vibration and fall of sports equipment.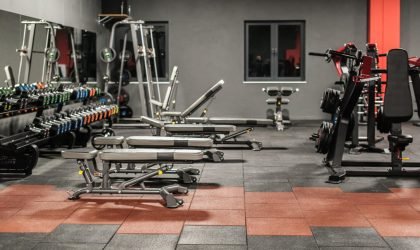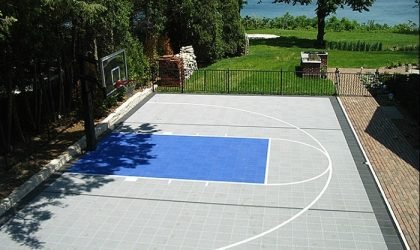 Play fields and shooting ranges
The floor in shooting ranges, playing fields and other facilities of this type undoubtedly requires paying special attention to the safety of their use. Speedfloor PVC and SBR / EPDM are systems that meet the conditions for the construction of permanent and portable sports shooting ranges in a special way. The modular nature of the system elements, the speed of their assembly and disassembly, mobility, easy replacement of damaged elements and the possibility of free surface creation make SpeedFloor very easy and quick to adapt any space and surface for sports needs. A friendly, safe, anti-skid and also non-rickety surface is the key to creating the right conditions for practicing various sports activities.
The zones by the pools, jacuzzi, SPA zones are wet areas, where anti-slip and easy to cleanliness are an important aspect. For practical reasons, the ease of replacement of damaged fragments is also important. Undoubtedly, all these features are met by SpeedFloor PP flooring solutions. Their additional advantage is the aesthetics or the effect of the third dimension (3D).
Balconies, loggias and terraces are not only places of relaxation and rest, but can often also be a specific "problem". Poorly made insulation, errors in the preparation of the substrate always turn out to be not only annoying, but above all expensive to repair. Therefore, attempts to repair them are usually very tedious and not very comfortable (both for the Investor and the contractor) activities.
And it doesn't have to be that way. SpeedFloor solutions meet these problems. Depending on whether we are dealing with surfaces located outside or inside buildings, we have solutions made of vinyl, polypropylene or EPDM. What all these solutions have in common is the speed and efficiency of their implementation. They are permeable and do not retain water on their surface. They are solutions that allow you to change the nature of the surface and the environment in which they are installed in just a few hours.
Industrial floors are primarily a combination of resistance to high mechanical and chemical loads and practicality in operation. The right choice of industrial flooring will help create an appropriate work environment that is aesthetic, efficient, clean and, above all, safe.
Produced using modern injection technology, very durable, homogeneous vinyl tiles of SpeedFloor Standard, XL, ECO or ESD floors with extremely durable Fortelock joints are a solution designed specifically for all types of industrial surfaces. Simple and effective. Durable and functional. Fast and practical. In those areas where the scale of loads and the nature of the rooms allows it, PVC elements in the Light version and openwork systems SpeedFloor PP 50 or even PP 25 will also prove successful.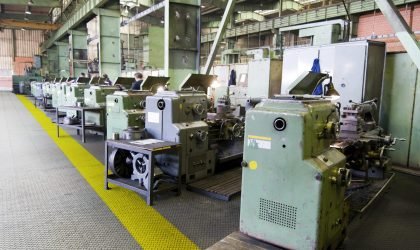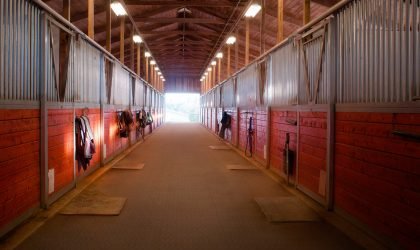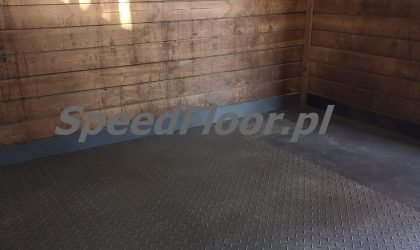 The elements of SpeedFloor PVC and SBR / EPDM floors are made of high-quality vinyl or rubber granules. As a result, floors are softer, more pleasant and warmer than conventional materials. The jointless structure of the PVC surface prevents the floor from absorbing liquids (including animal excrements).
Another way to use SpeedFloor elements is to make box wall cladding. First of all, it makes the box quieter and warmer, and the horse does not destroy the surface of the partitions of his "room" with his hooves or teeth. The use of SpeedFloor floors as mats or wall cladding for stables increases the comfort and safety of horses, making them move or rest more freely, and they do not risk slipping or falling.
Undoubtedly, for horse keepers, an extremely important advantage of the floor is its very easy maintenance. It is noteworthy that the elements of SpeedFloor floors make it possible to disassemble individual parts, thoroughly clean them, as well as the substrate under them, and then disassemble them in the same or another way.
Floors for healthcare - offices, clinics
Floors in healthcare facilities are subject to high traffic and stress. Occupational health and safety regulations require that the floors in these specific places be easy to clean and disinfect. Not every type of floor is able to meet these requirements.
The solution may be floors in the Speedfloor PVC system, distinguished by mechanical resistance to compression, abrasion and scratching, enabling quick local repair, and at the same time resistant to dirt on their surface. The material from which the tiles are made guarantees adequate hygiene with the use of simple procedures and basic care products. For the users themselves, the floors guarantee aesthetics, comfort and safety.